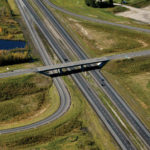 Al-Terra at work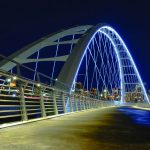 Walterdale Bridge
Project Partners: DIALOG, ISL Engineering and Land Services Ltd., and Al-Terra Engineering Ltd.
Client: City of Edmonton
Location: Edmonton, AB
Team Members: COWI North America Ltd., Thurber Engineering Ltd., Spencer Environmental Management Services Ltd., Turtle Island Cultural Resource Management, Northwest Hydraulic Consultants Ltd., HLB Lighting Design, and SMA Consulting Ltd.
---
After nearly 100 years, Edmonton's Walterdale Bridge was to be replaced with a new structure capable of handling increased traffic flow. Al-Terra conducted the study to develop and evaluate options for a bridge replacement, including upgrades to the vicinity transportation network. Keeping the existing bridge open and maintaining the busy commuter route until the new bridge was operational was a priority. A total of nine strategic traffic routes and bridge replacement options were developed and evaluated. Three options were subsequently recommended for further consideration with an optional route ultimately chosen.
With its elegant arches, the Walterdale Bridge has instantly become one of Edmonton's most iconic architectural features. More than that, it serves as a statement for a modern city that is boldly moving forward.
Construction and Modernization of Alberta's School Infrastructure
Client: Alberta Infrastructure and Local School Boards
Location: Various locations across Alberta
Team Members (Architect and Prime Consultant): ACI Architects Inc., Architecture Tkalcic Bengert, Bennett Architect Inc., DIALOG, Stephens Kozak Architects Ltd., and Al-Terra Engineering Ltd.
---
Al-Terra Engineering has worked on project teams with architectural firms and other sub-consultants for Alberta Infrastructure and school boards on over 60 school projects across Alberta in the past 10 years. Al-Terra's role has included input to the site plan layout and the design of site grading, underground services, stormwater management and parking / drop off areas. Often the scope of work extended off-site to the adjacent streets, including site access, layby lanes and the extension of underground services. Al-Terra has been involved from the concept phase, through design, construction and the warranty period, either in a prime civil consultant role or a bridging consultant role.
Strathcona County Snow Melt Facility
Client/Owner: Strathcona County – Transportation and Agricultural Services
Location: Strathcona County, AB
Team Members: Spencer Environmental Management Services Ltd., DES Engineering, Hoggan Engineering & Testing (1980) Ltd., and Al-Terra Engineering Ltd.
---
Sherwood Park's swift urban growth caused an urgent demand for a new snow melt facility to replace the existing one at the heart of the town. Numerous locations were investigated before Sherwood Park settled on a 40 acre parcel of land near Ardrossan. The new facility was designed to accommodate snow cleared from arterial and residential roadways, and commercial parking lots within the County. The site consisted of an 8ha, clay lined storage area with collection ditches leading to a 0.9ha storm pond. The design sends melt water through a multi-level treatment system before being discharged into a natural creek.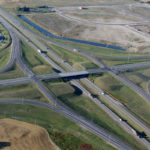 Highway 2 & Highway 11A Interchange
Project Partners: ISL Engineering and Land Services Ltd., and Al-Terra Engineering Ltd.
Client: Alberta Transportation (Central Region)
Location: Red Deer, AB
Team Members: AMEC Earth & Environmental, EBA Engineering Consultants Ltd., EnviroMak Inc., Millennium EMS Solutions Ltd., Archaeology Group, Traffic Solutions Consulting Ltd., Magna IV Engineering Ltd., Sunagro Land Services Ltd., Snell & Oslund Surveys (1979) Ltd., Canadian Highways Institute Ltd.
---
The City of Red Deer is rapidly expanding to the north and to the west. This has added significant traffic volume to the Highway 2 and Highway 11A interchange. A new interchange was required to accommodate future growth. Initial designs were based on the conversion from a full clover leaf to a diamond configuration. The team at Al-Terra determined that future replacement using the current location would create a transportation network 'lock-up'. Their solution was to modify the design to a split diamond configuration. This would allow the future structure to be built while the existing facilities remained in use. Al-Terra provided the full scope of engineering services from planning to post-construction.