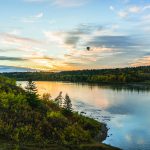 Strathcona Backstreets Neighbourhood Renewal
Client

City of Edmonton
Location

Edmonton Alberta
Construction Completion

2022
As an extension to the Strathcona Neighbourhood Renewal project, EDA as part of the project team led by Al-Terra Engineering received a change order to develop a backstreet alley in a mainstream area of Old Strathcona, where some of Edmonton's most prominent festivals take place. Two existing parking lots were converted into pedestrian plazas, and the adjacent alley right-of-ways, converted to 'shared spaces' that serve the needs of both pedestrians and vehicles. The new shared space was enhanced with contemporary lighting, material, and character features that encourage and facilitate greater pedestrian use and be utilized for outdoor festive city events.
Extensive urban design, enhanced landscaping, including use of soil cells and LID for collection and reuse of urban runoff was used to develop and create a sustainable and vibrant environment for the accessibility and enjoyment of visitors and all users of the area. The full renewal project, including planning and design was completed within one year and within budget, and the project is considered a major success and an enhancement to the Strathcona Neighbourhood.
Project Highlights
The Strathcona Backstreet was not a traditional project with direct capital allocation in the City's budget, but emerged from a collaborative approach supported by the BIA and member businesses, the City of Edmonton's Neighbourhood Renewal Program, and EPCOR through its low impact development program.  Multiple overlapping sources of funding were required to deliver the project.
The project was successfully awarded a $400K grant from the Green Municipal Fund, through the Federation of Canadian Municipalities.  The GMF grant is awarded to projects that: "reflect the very best examples of municipal leadership in sustainable development – feasibility studies and pilot projects that are expected to lead to high environmental benefit."
As a low impact development facility the Strathcona Backstreet utilized structural soil cells under plazas that are designed to retain and pre-treat the volume of water from an 18mm storm event contributed from two adjacent sub-catchments prone to flooding
The new shared space is designed with enhanced lighting, materials, and character enhancements that encourage better support and expand the space available to support markets and events in an area active with festivals and programming.