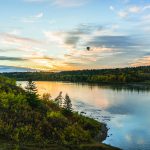 Strathcona Neighbourhood Renewal, and Strathcona Backstreet Neighbourhood Renewal
Client

City of Edmonton
Location

Edmonton, Alberta
Construction Completion

2022
Al-Terra Engineering was selected to lead a team that included landscape design and public communications, with input from residents, resulted in a new vision for the neighbourhood that 'connects its residents and creates a strong sense of community by promoting walking, biking, and encourages gathering in safe, attractive and inviting public spaces,' and 'provides a safe experience for both residents and visitors who move in and through the neighbourhood using all methods of travel.'
Encompassing nearly 17km of roadways the final design included addition of new sidewalks, traffic calming features, separated bike lanes, shared use paths, shared roads, parklets, new areas for tree planting, and re-imagined public spaces.
The project features the integration of unique transportation, planning and streetscape elements including new protected bike facilities, raised and on-street bike lanes, new shared-use roadways and the introduction of new seating nodes and plantings throughout the neighbourhood.
As an extension to the Strathcona Neighbourhood Renewal project, Al-Terra and EDA received a change order to develop a back street alley in a mainstream area of Old Strathcona, where some of Edmonton's most prominent festivals take place. Two existing parking lots were converted into pedestrian plazas, and the adjacent alley right-of-ways, converted to 'shared spaces' that serve the needs of both pedestrians and vehicles. The new shared space was enhanced with contemporary lighting, material, and character features that encourage and facilitate greater pedestrian use and be utilized for outdoor festive city events.
Extensive urban design, enhanced landscaping, including use of soil cells and LID for collection and reuse of urban runoff was used to develop and create a sustainable and vibrant environment for the accessibility and enjoyment of visitors and all users of the area. The full renewal project, including planning and design was completed within one year and within budget, and the project is considered a major success and an enhancement to the Strathcona Neighbourhood.
Our approach resulted in a new vision for the neighbourhood that 'connects its residents and creates a strong sense of community by promoting walking, biking, and encourages gathering in safe, attractive and inviting public spaces,' and 'provides a safe experience for both residents and visitors who move in and through the neighbourhood using all methods of travel.'
Areas of Expertise
Neighborhood-related transportation planning and engineering design
Urban planning and design
Drainage engineering design and low impact development (LID)
Electrical engineering design
Landscape architecture and design