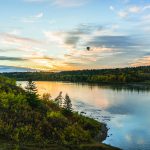 17 Street and Baseline Road Jughandle
Client

Strathcona County
Location

Strathcona County, Alberta
Construction Completion

2005
Al-Terra Engineering was retained by Strathcona County to initially complete functional planning for 17 Street, particularly at the Baseline Road intersection, where capacity and operational concerns had been identified and were resulting in congestion and safety issues, particularly during peak hours. Original thoughts were to implement double left turn lanes on Baseline Road; however, analysis indicated that even with double left lanes, congestion would reoccur within the 10 year horizon. Development constraints in all quadrants of the intersection, except southeast, coupled with other technical constraints, precluded interchange / grade separation of this location.
A jughandle concept, which allowed removal of left turn movements at Baseline Road / 17 Street, was developed, utilizing the available right-of-way in the southeast quadrant. Intersection analysis and traffic simulation indicated that the jughandle could accommodate the projected long-term volumes at a high Level of Service. Al-Terra was subsequently retained to complete design and construction engineering for implementation of the jughandle, including two new traffic signals and modification of existing signal.
Since opening to traffic, the jughandle has exceeded expectations with respect to reducing queues and congestion. Removal of left turn movements is also expected to reduce collisions.
Project Highlights
Complex traffic analysis and simulation (Synchro / Sim Traffic) required for the three jughandle intersections. Signal coordination is critical to operation. Camera technology was used for detection. 
Traffic time / delay study comparing Jughandle to conventional intersection.
Difficult public communication process during planning study (public and council skepticism), and developed education program prior to opening.
Design enhancements required to accommodate the very high heavy truck volume on 17 Street and Baseline Road. 
Develop a traffic accommodation strategy to minimize traffic disruption during construction in peak hours. 
Develop innovative approach to dealing with difficult geotechnical conditions and surface water. 
Developed surfacing strategy based on the use of Polymer Modified Asphalt as rut mitigation strategy for very high truck traffic.