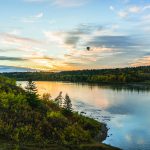 Ardrossan Heights – Estates
Client

Strata Development Corp.
Location

Ardrossan, Alberta
Construction Completion

Final Stage Constructed in 2022
Al-Terra Engineering Ltd. in conjunction with various sub-consultants, was retained to do the engineering design and construction management (including survey) by Strata Developments for roughly 56ha of raw land in the Hamlet of Ardrossan within Strathcona County. The development consists of various low and medium density residential product types, associated municipal reserve parks, two inter-connected neighborhood storm water management facilities, and about 1300m of rural roadways within an urban setting. The final stage of the development was constructed in 2022.
Project Highlights
Coordination of approvals, design, and installation of an outfall structure on the Point-aux-pins Creek.
Redesign of the Estates development area from a rural cross-section to a full-urban cross-section with Stage 1 of the development area.
Grading design optimization to utilize the native material to ensure no import or export of material was required.
Geotechnical and Hydrotechnical studies along the Point-aux-pins Creek to ensure that development didn't negatively impact the water way, nor was the development negatively impacted by the water way.
Deep sanitary trunk installed along the Main Street corridor to provide servicing to the adjacent lands to the east to avoid costly and difficult sanitary retrofits at a future date.
Traffic calming features installed at the request of Strathcona County along the primary roadway through the Estates development area.
Connection to and re-routing of an existing rural area distribution water main that was previously installed through the quarter-section. The re-routing of the water main was completed over 2 stages of construction while maintaining water service at all times.