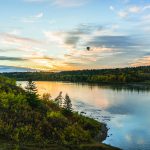 Concept Planning Study: 92 Avenue Roundabouts
Client

MCL Group
Location

Edmonton, Alberta
Construction Completion

2013
Al-Terra Engineering was retained by MLC Group to prepare a Concept Planning Study for 92 Avenue between 215 Street NW and 231 Street NW. The scope of services included subsequent design and construction engineering services.
The 92 Avenue arterial road alignment was established through the Neighbourhood Structure Plans for the Rosenthal and Secord Neighbourhoods of the Lewis Farms Area Structure Plan. The alignment follows a pipeline corridor for the majority of its length between 215 Street and 231 Street, which was considered a constraint to development of this arterial, but also provided opportunities with respect to providing amenities (trails and enhanced urban design) within the pipeline corridors.
92 Avenue within the study area services primarily residential areas and included a large district park and school site along its frontage. Traffic analysis indicated that roundabout intersections and a two-lane roadway (one lane in each direction) would meet the long-term traffic demand for 92 Avenue west of 220 Street. The roundabout intersections for this roadway provide many intangible benefits in addition to providing equal or superior operations during peak hours. This project was considered an excellent candidate for roundabout intersections that not only provide a context sensitive design but are also considered a sustainable approach to arterial road design.
The plan developed was considered innovative in achieving sustainability, and improved operations, and with an overall lower construction cost. This project was jointly presented by the City of Edmonton and Al-Terra Engineering at the 2015 TAC Conference in Charlottetown, P.E.I.
Project Highlights
Project team experience led to identifying roundabout intersections for further analysis and investigation.
Extensive traffic / intersection analysis required to justify roundabout intersections. Operations of conventional intersections compared to roundabout intersections required the use of Sidra and Synchro software.
Consultation with three pipeline operators regarding pipelines in an aging field led to a collaborative approach to pipeline right-of-way use while protecting the integrity of pipeline operations.
Coordination with adjacent developers and consultants to ensure issues of mutual interest were resolved proactively.
Proactive coordination with both franchise utilities and other consultants regarding the use of 92 Avenue for utility works.
Proactive approach to educating client and approval agencies about benefits of roundabouts for this project.
Extensive analysis to optimize the 92 Avenue profile and to ensure compatibility with the pipeline profile, while meeting other technical design objectives.
Coordination with the City of Edmonton regarding access to a large district park and recreation center.