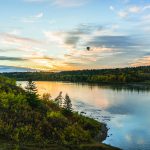 Forest Ridge Residential Subdivision
Client

Qualico Developments Canada Ltd.
Location

Fort Saskatchewan, Alberta
Construction Completion

Ongoing
Al-Terra Engineering in conjunction with various sub-consultants, was retained to do the engineering design and construction management (including survey) by Qualico Developments for the roughly 78ha of raw land in the Westpark area of the City of Fort Saskatchewan. The development to date (53.5ha) consists of various low and medium density residential product types, associated municipal reserve parks, a children's play structure, two inter-connected neighborhood storm water management facilities, and about 1500m of Collector Roadways.
Project Highlights
The development required the preparation of a detailed Engineering Design Report to show overall servicing concepts which allowed the project's first stage to commence.
The preliminary planning and engineering was done in a manner to retain existing natural features such as an old growth "interpretive" forest and an existing elevated ridge running through the property.
An offsite sanitary trunk and associated cost sharing agreement had to be put in place and take into account the adjacent developer's requirements in order to commence development of Forest Ridge.
The property has significant elevation relief including a 10m high slope which required extraordinary geotechnical investigations and mitigation during construction.
The sloping topography and sandy soils made conventional wet ponds undesirable for storm water detention, so an innovative "connected" dry storm pond system was developed and constructed.
A high groundwater table and "running sand" were encountered and dealt with during deep utility installations at various locations throughout the site.
The City requested the design and implementation of traffic calming at a few intersections along the custom cross-section collector roadway.