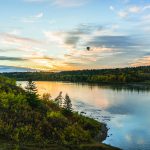 Sienna Residential Subdivision
Client

Fort-Devon Developments Ltd.
Location

Fort Saskatchewan, Alberta
Construction Completion

Ongoing
Al-Terra Engineering in conjunction with various sub-consultants, was retained to do the engineering design and construction management (including survey) by Qualico Developments for the roughly 185 ha of raw land in the Southfort area of Fort Saskatchewan. The development to date (50 ha) consists of various low and medium density residential product types, associated municipal reserve parks, a children's play structure, a 2.4ha regional storm water management facility, about 1600m of arterial roadway, and a connection to Range Road 224 under an Altalink transmission line.
Project Highlights
The development required significant "up front" servicing investigations, planning, and review in order to prepare the Engineering Design Report which allowed the project's 1st stage to commence.
Detailed preliminary design was required for the overall area to ensure gravity drainage could be achieved for the sanitary sewers due to the limited elevation change over the site as a whole.
Significant cost savings were achieved for the developer and the City by combining the first stage of onsite earthworks with the excavation of the regional storm water management facility.
950m of arterial roadway had to be designed and constructed with the initial stage of the development in order to provide permanent access to the site.
Continuous stockpile management with each stage of development to ensure that material relocation costs are avoided or minimized if necessary.
Design of an 'interim' roadway connection to Range Road 224 in advance of transportation planning being completed for the area.
Construction of Sienna Boulevard underneath an electrical transmission line including coordination and agreements with Altalink and installation of new electrical infrastructure.