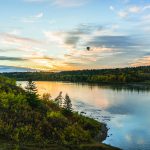 Jasper Avenue New Vision
Client

City of Edmonton
Location

Edmonton, Alberta
Construction Completion

2022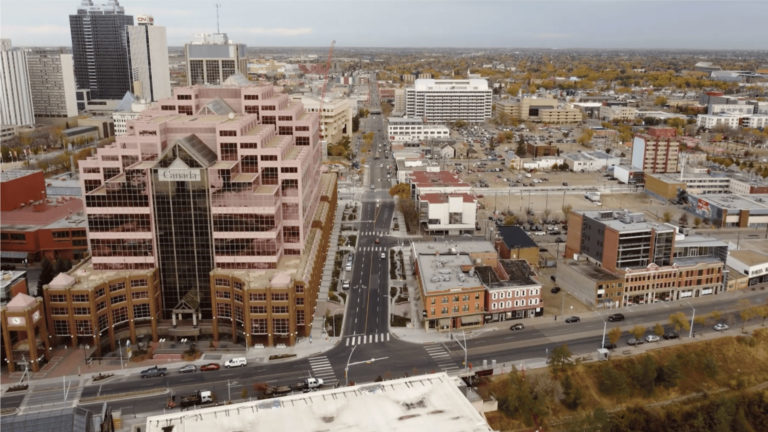 Video credit to PCL Construction
The DIALOG / Al-Terra Joint Venture was retained by the City of Edmonton to provide design, tender, construction supervision, and contract administration for the Jasper Avenue New Vision Phase 2 project. The scope of work includes concept planning for the 2.6km corridor, as well as preliminary and detailed design for construction of a portion of Jasper Avenue, from 100 Street to 97 Street, and 97 Street, from Jasper Avenue to 102 Avenue.
Jasper Avenue is recognized as an important cultural, social, and economic centre for the City of Edmonton, and is designated as one of the City's "main streets." As such, the vision for this project was to transform the Avenue into an attractive and vibrant people place, while maintaining its importance as a transportation link. The revitalization of Jasper Avenue's streetscape is seen as a catalyst to private sector redevelopment, a symbol of the vitality of downtown, and is a place all Edmontonians can be proud of.
The Jasper Avenue streetscape had largely reached the end of its useful life cycle and needed a renewal to improve pedestrian functionality and movement, as well as bring a more contemporary and renewed sense of place to Jasper Avenue. A report in 2011 explained the City of Edmonton's intent to unify Jasper Avenue from end to end with a consistent streetscape typology that is pedestrian focused. With budget restraints and the need to upgrade such a large section of the roadway, the corridor was divided into sections for design and construction. Phase 2 began with design work in 2018 with construction taking place from 2019 to 2022.
The completed design and construction plans are a result of an extensive public consultation, including many high-profile stakeholders, and utilizing the Construction Consulting General Contractor (CCGC) delivery method. The final design developed from the public feedback received, evaluation of existing technical constraints, and alignment with COE plans and policies.
All modes of transportation considered and accommodated – transit, passenger vehicles, bicycles, goods delivery vehicles, and above all, pedestrians. The project includes a narrowed roadway, new wider shared-use pathway for pedestrians and cyclists, new planting and landscape enhancements including structural soil cells to enable street trees to flourish, new inclusive custom seating, increased design standards for private development, and an overall more refined streetscape and public realm.
The project team used an innovative approach to develop design criteria and find a balance for modal priority / hierarchy within in the corridor, while maintaining a similar level of service for vehicular travel along Jasper Avenue. Other innovations included the extensive use of soil cells to promote a healthy tree canopy, creating a generous and inviting public realm space, and the use of a CCGC procurement model for construction delivery. Part of the project addressed an immediate need to rehabilitate a City-owned structure, the Edmonton Convention Centre, which extends underneath Jasper Avenue. To meet the required structural construction timelines, the roadway design was split so that one portion could be fast tracked into preliminary and detailed design, while the other portion without construction funding could progress separately.
The Jasper Avenue New Vision project goals were set to improve the pedestrian realm with wider sidewalks, space for furnishings and greater separation to vehicular traffic while maintaining an average of 20,000 vehicles per day. The project was completed on budget with tight timelines, which is a success on such a complex project.
Areas of Expertise
Neighborhood-related transportation planning and engineering design
Urban planning and design
Drainage engineering design and low impact development (LID)
Electrical engineering design
Landscape architecture and design